Equ

ipments financed

by RESSOURCES21
The LabEx has already contributed towards the financing of analytical equipment for a number of facilities:
A new laboratory for K-Ar dating of clay minerals
Analogic experimentation laboratory using artificial rivers
Participation in the development of the new generation of high-performance ion microprobe (Cameca)

This test plant for investigating the efficient processing of ore minerals and residual substances is unique among European universities.
The size of an industrial  mineral-processing plant, STEVAL was designed to be at the interface of academic knowledge, higher education, industrial applications, and environmental issues. WIth approximately 2,000 m² of technical space available, and equipped with more than 150 instruments dedicated to the study of solid-solid or solid-liquid separation, tests and experiments can be performed on laboratory-batch up to industrial scales.

GIS Friches Industrielles (GISFI) is an in situ study site for remediation of polluted soils. Located at Homécourt (northern Lorraine), this former industrial wasteland is equipped with an array of sensors for monitoring and studying remediation processes for polluted and degraded soils.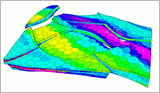 The GoCAD 3D-modelling code GoCAD is an advanced software package for digital geology and 3D spacial representation. GoCAD is used and financed by a consortium of 120 universities and 18 industrial partners, including a number of major petroleum and mining companies.
The Service d'Analyse des Roches et des Minéraux (SARM), the CNRS analytical research facility is hosted and managed by the Centre de Recherches Pétrographiques et Géochimiques (CRPG). The facility was founded in 1972 with the aim of harmonising the analytical potential of the CRPG with the needs of the geological community in France. Today, SARM is an important INSU research facility of and employs around fifteen technicians and engineers. SARM handles more than 6000 samples per year and around 60 different elements are analysed in its laboratories.